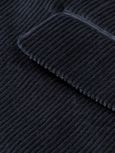 172901-Single-breasted corduroy blazer
$368.00 CAD
A wardrobe staple, this single-breasted blazer has the versatility to be worn for formal occasions – or to be paired with jeans for a smart casual look. Featuring a fine corduroy texture with flap pockets, this blazer is a reliable go-to.
Men's blazer
Corduroy
Comfort stretch
Single-breasted
Flap pockets
Chest pocket
Body: 99% Cotton and 1% Elastane
Front Lining: 100% Polyester
Back Lining: 65% Polyester and 35% Cotton
Sleeve Lining: 100% Polyester
...
Ce blazer à boutonnage simple est un élément essentiel de la garde-robe. Il peut être porté pour des occasions formelles ou être associé à un jean pour un look décontracté. Doté d'une fine texture en velours côtelé et de poches à rabat, ce blazer est une valeur sûre.

Blazer pour hommes
Velours côtelé
Extensible pour plus de confort
Simple boutonnage
Poches à rabat
Poche poitrine
Corps : 99% coton et 1% élasthanne
Doublure avant : 100% Polyester
Doublure arrière : 65 % polyester et 35 % coton
Doublure des manches : 100% Polyester
Nettoyage à sec par un professionnel