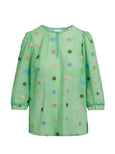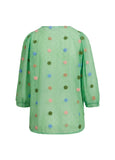 COSTER - TOP W. DOT TEXTURE
$200.00 CAD
Haut vert avec texture pointillée colorée. Il est transparent mais coiffé d'un haut en dessous. Il a des manches 3/4 et une encolure ronde + boutonnée.

Détails du produit :
- Tissu en maille
- Texture à pois
- Col rond
- Manches 3/4
- Ouverture boutonnée dans l'encolure

Conçu au Danemark.
Style non. 231-1115
Qualité : Polyester 100%
Green top with colored dotted texture. It is transparent but styled with a top underneath. It has 3/4 sleeves and a round + buttoned neckline.

Product details:
- Mesh fabric
- Polka dot texture
- Round neck
- 3/4 sleeves
- Buttoned opening in the neckline

Designed in Denmark.
Style no. 231-1115
Quality: Polyester 100%