The Story of The Pepin Shop
The Pepin Shop is dedicated to helping you live your passion for art, fashion and life. We translate and unify the very best in style, home, & fashion, with a strong focus on Canadian talent.   It's your new one-stop for your home, bath, and wardrobe. It's your life -- curated by Pepin.
Who is The Pepin Shop?
The talent behind The Pepin Shop is the brother and sister team, Patrick and Lysanne Pepin.
Lysanne Pepin is a renowned artist & entrepreneur, venturing into the world of retail since 1998 with the landmark shop Espace Pepin in old Montreal. and founder of Maison Pepin in 2016 is a creative laboratory, a showroom for designers. Where Decorative objects, Furniture, Sofas, Lighting, Plants& Botanical, Tiles, Kitchens, Arts, and yes a bakery "Amour du Pain"
Lysanne Pepin passionately selects unique and well-made products, inspired by Scandinavian and Nordic design. 
We encourage local creation and sustainable production, while showcasing the work of inspiring designers from around the world.
We are committed to developing our own collections in order to offer you the unique, unpredictable and poetic experience of Quebec through the passionate vision of the Pepin family.
Patrick Pepin is a studied photographer & graphic artist, who has entered into the world of design with his company NumérArt; A specialized print company whose work can be seen on the walls of some of the better hotels in the world.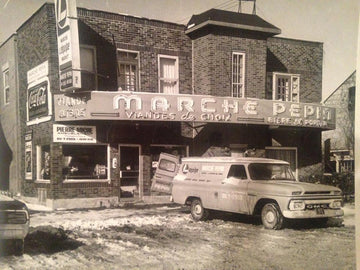 Although their virtual journey has just begun, their talent for finding and sharing beautiful things is something they come by honestly.
Their family genes have passed on a beautiful mélange, of art & commerce.
Grand Papa Pepin had the best supermarket in town with a reputation for impeccable customer service. Patrick and Lysanne's parents used a section of the store to display furniture & offer design services. This later also evolved into work promoting design through magazines and interior design expositions.
The spirit of The Pepin Shop speaks to a new generation who seek a refined, yet effortless lifestyle that will reflect their individuality.
We're nothing without you.
We never lose sight of our vision: to make people feel good, through the products and the service we provide everyday. We are dedicated to providing Total Customer Service, in true Pepin fashion.