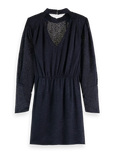 173382-Mock neck mini dress
$288.00 CAD
Our latest mini dress comes is highlighted by its mock neck - complemented by an open back which define this eye-catching style. Perfect for anytime wear, this long-sleeved dress is a versatile addition to any wardrobe rotation.
Body: 53% Nylon and 47% Viscose
Lining: 94% Polyester and 6% Elastane
Delicate machine wash 30° 
Wash with similar colours
Wash with zipper closed
Wash inside out
...
Notre dernière mini robe est mise en valeur par son encolure fantaisie, complétée par un dos ouvert qui définit ce style accrocheur. Parfaite pour être portée à tout moment, cette robe à manches longues est un ajout polyvalent à toute garde-robe.
Corps: 53% Polyamide and 47% Viscose
Doublure: 94% Polyester and 6% Elasthanne
Lavage délicat 30°
Laver avec les mêmes couleurs
Fermez la glissière fermée avant de laver
Laver retourné